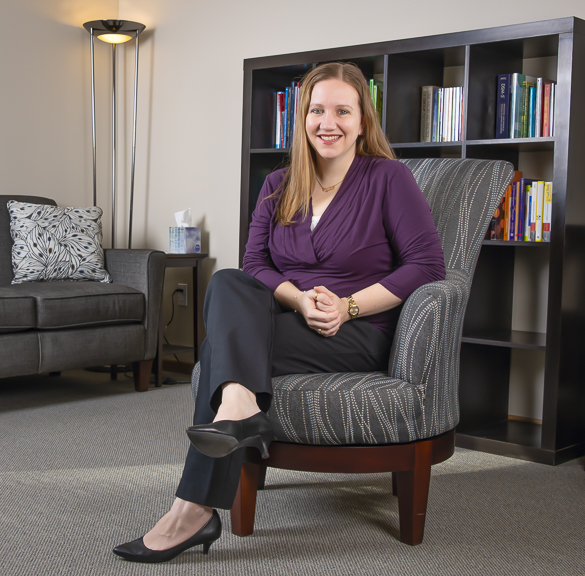 Lanaya Ethington is the co-founder and co-owner of Thrive Behavioral Health. She is a licensed psychologist in the state of Iowa, and she has over ten years' experience working with people who represent a wide range of presenting concerns and identities.
Her treatment specializations include anxiety, depression, OCD, trauma, grief, loss, adjustment, life transitions, eating disorders, and body image concerns. She has extensive experience in working with concerns related to international students, acculturation, and complex identity development.
In her practice, Lanaya primarily utilizes Acceptance and Commitment Therapy (ACT), a third-wave Cognitive Behavioral Therapy (CBT) approach that emphasizes the development of psychological flexibility.
Psychological flexibility is a process that helps people live more meaningful lives in the presence of both helpful and unhelpful emotional states. Lanaya believes that a fully lived life includes a broad spectrum of human experience, including both joy and pain, and that we can integrate our life experiences into a more coherent sense of self.
Lanaya integrates other therapeutic approaches into her work, including Compassion-Focused Therapy (CFT), Relational Frame Theory (RFT), and Exposure and Response Prevention (ERP).
Lanaya spent the first fifteen years of her life as a Third Culture Kid (TCK) in Saudi Arabia, and she also completed her master's degree at Dublin City University in Dublin, Ireland.
She has a bachelor's degree in Psychology and Spanish from the University of Michigan, and a PhD in Counseling Psychology from Indiana University – Bloomington. Lanaya has presented at regional, national, and international conferences for the past 19 years. She also offers organizational consulting, applying ACT principles to increase group cohesion and greater organizational functioning.