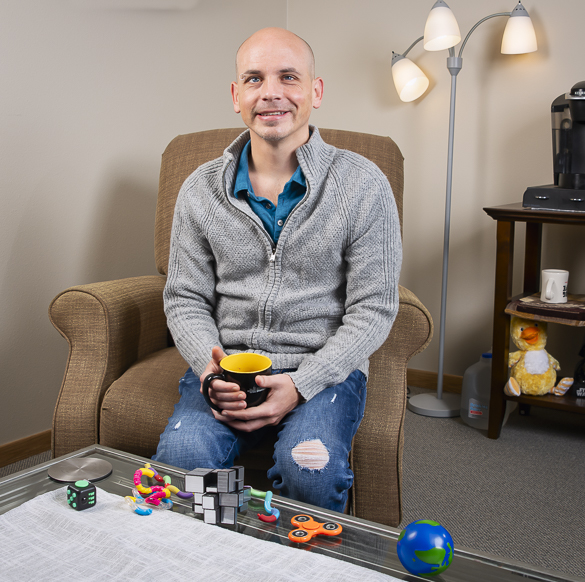 Darrel Kirby is the co-founder and co-owner of Thrive Behavioral Health. He is a mental health therapist and alcohol and drug counselor.
When Darrel found his own life unravelling at age 20 and unexpectedly losing all of his eyesight, he sought psychotherapy and discovered such healing that he was driven to establish a career helping others.
Simply stated, Darrel believes whole-heartedly in his clients and their ability to heal wounds, gain insight, make healthy changes, and thrive!
Darrel is passionate about his work and is committed to not only helping people feel better but actually get better. His style is warm, yet firm and driven by the expectation that his clients will commit to therapy and work through adversity, including mental health struggles, to live rich, full, meaningful lives.
Darrel graduated with his master's degree in Social Work (MSW) in 2008 and has spent the past decade gaining an abundance of experience helping people of all backgrounds.
His style is eclectic and tailored to the individual client, with approaches rooted in cognitive behavioral therapy (CBT), acceptance commitment therapy (ACT), and EMDR, Darrel is confident helping people facing depression, anxiety, relationship problems, adjustment, trauma and its impact, addictions and substance use problems, disordered eating, grief, low self-esteem, identity concerns, motivation and organizational problems, as well as many other life challenges.
Darrel recognizes that his clients are the experts of their own lives and that his responsibility is to offer understanding, acceptance, hope, reflection, insight, and skills.
Darrel is an Iowa native, having now lived in Iowa City over 20 years and is active in the community. You may find him checking out a local band, attending a local community theatre production, cheering at a Hawkeye wrestling meet, or dining out with friends.